Payouts
100%
goes to your business
Own a Bill Per Call Phone Service today!
Get a fully featured website customized for your business and begin recruiting Advisors right away. You provide the theme or pick one of ours, and we'll customize our platform using your design files. We are Developers not web designers so any graphic design elements can be purchased from a website template retailer or by your own graphics designer who will provide us with your website PSD files.
The $2,500 Installation Fee Includes:
* Dedicated IP address for your own custom domain name.
* Unlimited extensions and automated signup process for your clients.
* Payflow Pro credit card processing gateway that we will connect to your merchant account. (internet merchant account required)
* Includes 50 Hours of custom development (not design) to your site. Additional hours are billed at $50 per hour. We use time tracking software with screenshots to ensure the developer devotes 100% of the time to your site.
* Our updated Unlimited Platform customized with your own graphics and copy inserted. (You provide the content and your own company logos and graphics. Most of our Unlimited clients purchase their own Web Design Template or work with their own designer and provide PSD files that we use to customize our platform to your exact specifications.)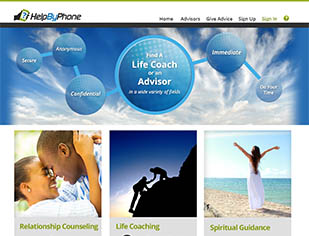 Professional Web Design
Our developers can customize our platform for your business design with your own graphics assets from a template or your own PDF files.
Control Panel
Our streamlined control panel gives Administrators, Advisors and Members access to their account information and the ability to make all changes necessary.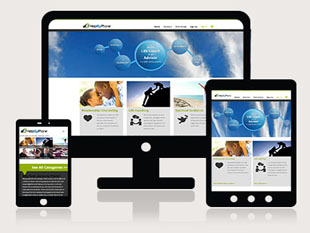 Mobile-Ready
BillPerCall's web design is ready for the next generation, and users can log on and access all features and settings from any device.
Payouts
80%
goes to your business
Manage a Bill Per Call Phone Service with ease!
Own a dedicated phone number with your customized greetings and begin taking calls from paying customers today! We provide you with coded buttons and a fully customizable website template, or use your existing website and insert the codes we provide to help build a professional site with beautiful agent profiles.
With our Profesional Service, you will be able to accept all major credit cards using our merchant account or your own merchant account. Payouts occur on the 25th of each month for the previous month's earnings (or following business day) if you need to use our merchant account. Optionally, you can upgrade your account to connect to your own merchant account. When using your own merchant account the funds from each day's earnings will post to your account daily and we charge zero% and zero transaction fees!
This upgrade will increase your Professional Plan monthly fee to $80.
* This price includes unlimited extensions for as many agents as your company requires at no additional cost! Our competitors charge enormous fees for additional extensions, but with BillPerCall there are absolutely no monthly or startup costs for endless extensions, and they are simple to create in your administrator dashboard. Each extension you add for your agents can have their own custom greetings as well, for free!
Additional Phone Numbers (toll-free or local numbers): $10 Setup Fee; $5 Monthly Fee. Additional numbers can be added to Professional or Unlimited plans. If you prefer for your main number to be a Toll-Free 800 number instead of a local area code, there will be an additional $5 monthly fee.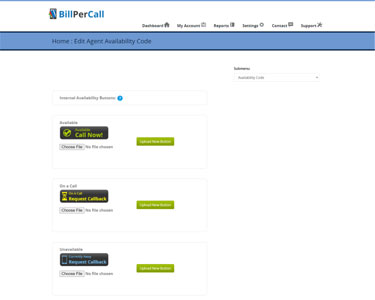 Click Through Call Buttons
Just add our code to your existing website and begin taking calls through our system immediately. Customize your graphics for a personal touch!
Control Panel
Our streamlined control panel gives Administrators, Advisors and Members access to their account information and the ability to make all changes necessary.
Customized Audio
Customize all audio clips either by phone or web upload. Our control panel allows you to make your phone service your own!
Become a phone advisor today!
There's never been a better time to become a phone Advisor. In the digital age, time is more precious than ever, and your callers will be relieved to find the help they need from the comfort of their living rooms.
HelpByPhone is a fully featured service which includes a shared 800 number and private extension just for you.
Best of all, you receive 80% of every transaction, and the per minute fee is just $0.10.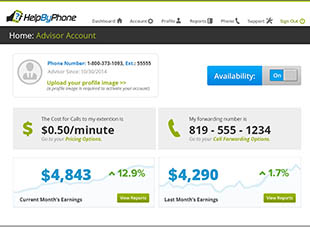 Integrated Control Panel
You can access your account anytime from any device. Update your profile, change your hourly rate, and more!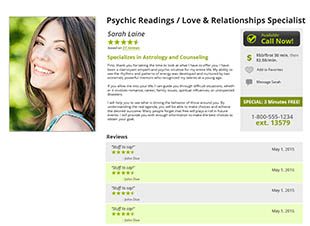 Eye-Catching Profiles
Members will be able to see your reviews, per minute rate and extension right from your profile. If you're available, they can give you a call right away.
Mobile-Ready
Access your account from anywhere, any time. Stay connected to your callers and be able to take calls from any mobile device.